11. February
Coming out of Silence
The excitement for the end was already palpable last night. The format of the evening was different – providing particpants the opportunity to speak in front at the microphone, about insights, experiences, etc. For some it obviousy broke the silence for them then – for others the reactions to the speeches broke their silence in another way – for the first time you could watch how your mind responded to the words of others, not just the monks and teachers.
The morning still started at 4am, with a reading at 4:30am that touched deep to our open hearts – it was the words of a Native American chief, who spoke to a delegation in Washington state. It was raw and real and a reminder of what work there is to be done in the world. Our usual yoga time was instead spent packing, sweeping and returning our space to their original state. The speaking would commence when we arrived in the dining hall. And indeed, the speaking began, like water bursting through a weakened dam.
The chaos and excitement was extreme, with random introductions being made. It is weird to spend 10 days with others, in a type of intimacy, and know not even their names. As names and nationalities and emails addresses were exchanged, it was clear to see who is silence had been influenced by whom. We again had to calm ourselves while Tan Agahn Po (the abbot) gave his final address and we gathered for a photo. Then bags were collected on a truck and we walked together to the highway, our first meeting with a world away from our sacred grounds. The world was indeed still moving at the same pace, it was us who had slowed down considerably.
We gathered for breakfast at the monastery across the street and I learned how hard it is to east slowly and in peace when there distraction like new foods, sounds and sights. We said our goodbyes, promised to contact those who live in San Francisco and made our way to the bus stop on the highway, in which we were told to wait for our bus. (We had bought the tickets the day before the retreat and now hoped that we had the right information.)
And in fact, at 9:55am, the bus pulled over, with two front seats, saved just for the two of us. We managed to go without the TV on for the first hour or so and then we were gifted a true test of our new breathing practice – Rogue Assassin, a bloody and violent action movie. I managed to keep my inner calm the whole time, with ear plugs and my long deep breaths. The lunch stop provided another overstimulation of sight, smell and sound, which would only help to get us ready for Bangkok.
We arrived as planned in the city and found our little sanctuary of a hotel without too much trouble. Lamphu Treehouse was recommended by the sweet English couple we met in Koh Samui and it was a gift to arrive to a calm and beautiful place amidst the chaos of Bangkok. Hunger drove us to venture to near by Khao San Road, the mecca for mindlessness, but we went anyway. It was powerful to walk amongst the stalls of clothes and material things, the smells of Pad Thai and mango with sticky rice, and the sounds of people and music and want for nothing. There was no need or want that needed to be fulfilled.
[This is a playlist with several videos, click on the film strip button (next to the play button) to see all]
11. February
While we were enjoying the comforts and chaos of Bangkok, back home the world welcomed...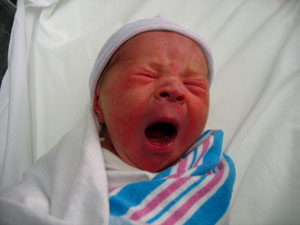 Anton
Monday, February 11, 2008
born at 23:47pm
Betza  Camacho & Magnus Sjoberg
12. February
"One night in Bangkok and the world's your oyster"
No rice soup for breakfast. Did we want eggs, we were asked. With bacon or sausage? Okay, we definitely went to the other extreme. The citrus of the pineapple was such a pleasure and the sweetness of tea with milk and sugar was also divine, still in the daze and calmness of 10 days in silence.
We packed our bag, with camera and money, sarong (in case we visited a temple) and the Lonely Planet as our guide. First stop: the technology tower. A boat taxi that whisked through the grey waters of the canal served as our mode of transportation and it was one of those travel moments when you realize you are still quite far away from home. The city was still waking up…we were out early, since we were now so used to early mornings. We'll see how long that lasts. The mega stores doors opened at 10:00 and shortly thereafter the sounds of "movies, DVD's, music, best price, I give you best price" filled the air. With Thailand's non-existent copyright laws you can get your hands on anything you can imagine can be burned onto a CD. Movies that are still playing in the theatres can be purchased for far less than a small popcorn. Most tourists were already hard at work, flipping through stacks of pirated material. It was really something to watch. Wonder if this stuff actually works once you get it home?
Not having the energy to get to Chatuchak, Bangkok's larger than life market, we instead caught the next boat back and spontaneously made our way to the Golden Mound for a moment of reflection and silence. The views of the city and the gentle song of the bells and chimes in the wind was a reminder of the past days.
We returned to the hotel for a simple rest before braving the Patpong night market. With those unfamiliar, Patpong is Bangkok's red light district famous for its ping pong shows and other physical delights. It has been gentrified and toned down in the past few years with the night market, shifting the emphasis from ping pong to pretend polo shirts. We indulged a bit in the shopping, knowing that we would be sending a box home the next day. The only thing left was to indulge in a show. You can't think about why or how – just whether you are curious or not. I was curious and knew this my one chance. I still can't think too deeply about what I saw or try to make sense of it. It is what it is.
We went from one extreme to another – perhaps we will look for the Middle way as soon as we leave Bangkok.
[Click on any picture to view full screen slideshow]
13. February
Farewell Bangkok
We sent our last package today. Whatever is purchased in the next 2 ½ months will join us for the rest of our journey. The Thailand postal service is quite a production: first you put your stuff on a scale and the very perceptive guy behind the counter already knows what size box you need. He tapes it and secures it, hands you the forms and motions you to another counter. Minutes later you are paying and on your way. Our package is going by boat, we look forward too seeing it at around the same time we arrive home.
The rest of the day was spent haggling over prices on Khao San Road, either for a pair of pants or a tuk tuk ride to Wat Pho,for one final look at the Reclining Buddha. The prices are firm,as are we, so in the end, no one leaves satisfied. We spent the last hour of our Bangkok stay, therefore sipping tea and chatting with the lovely staff of Lamphu.
A slow starting taxi ride that still ended with plenty of time at the airport meant that we would not miss our flight. Instead, we arrived on time in Chiang Rai and without much effort arrived at Laluna Resort and Hotel. A bit decadent yes. We know.
13 – 16. February 
Chiang Rai 
A date with our travel website 
We arrived in Chiang Rai in the evening of Feb 13th, via airplane (Nok Airlines) from Bangkok. We checked into a "splurge" hotel called Laluna with the plan to aggressively update our website and possibly even continue our meditation and yoga schedule that we so diligently followed at Suan Mokkh. We succeeded in spending many hours at the hotel's internet computer (which had a nice view of the property), even though two factors made our work a bit more challenging than expected: 1.) it was unusually cold for the few days we were in Chiang Rai and the wind blew through the lobby where the hotel's computer were located giving whoever was working there quite a bit of a chill factor 2.) The more humorous reason is that the hotel staff was fond of play one song at  a time, on repeat. For 4 hours, we listened to "Hotel California" by the Eagles...the live version with nice applause at the end. Aside from driving us a bit crazy, the content made us a tad homesick.
A beautiful and quiet place – with an open lobby in which to spend hours thinking and writing. Before heading to Laos, we have given ourselves two days to re-group, re-charge, perhaps practice a bit of meditation and write our experiences of the past few months. The quietness of the retreat helped to process all that we have seen, making it evident how important it is to preserve our memories…or what is left of them.
Besides a trip to the Chiang Rai night market, these few days were as uneventful as they sound. One our last night in Thailand we treated ourselves to our last Thai massage…a perfect way to end any visit.
15. February
While we were enjoying our last Thai massage, back home the world welcomed...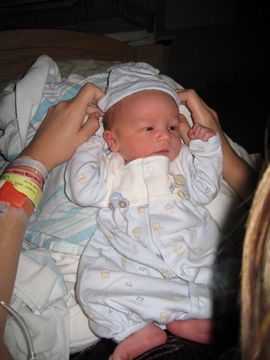 Pete Harris Frederiksen
Friday, Feb 15, 2008
Stacey & Paul Frederiksen
Sebastian Daniel Riley
Friday, Feb 15, 2008
Leslie Carrero & Shaun Riley